ANGLING ON THE BESSIE VEE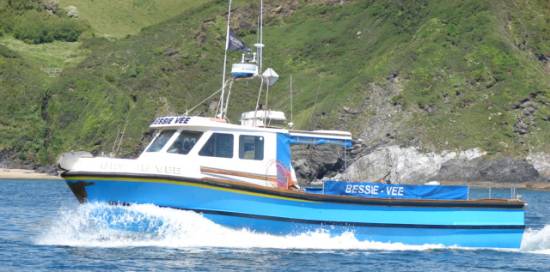 All sea anglers are welcome on the Bessie Vee - from complete beginners to experts; her swiftness guarantees that you'll have more fishing time than on many other angling boats, and her size allows for plenty of elbow room for battlers!

We have a choice of over 150 wrecks in the area and when tides allow, we anchor up to fish for ling, conger, pouting and whiting amongst others.

At times when tides are against anchoring on wrecks, we can drift over wrecks for pollock, cod, coley and whiting. There is always the option to do a combination of drifting and anchoring when tides allow. For serious rod-bending, the blue shark season is from late June to early October.

Rods and tackle are available, and Dave will always be on hand to assist and supply the hot drinks!

We don't object to you taking your catch away for your own consumption, but to encourage conservation of sea life, generally, catches will be measured, recorded and photographed if you wish, and then returned to the sea.

We have a 60 mile licence, and Charters are available for 4, 8, 10 and 12 hour-long days.

For individuals, we can start advertising spaces for trips on available days. See our partially booked trips on the schedule of the 'PRICES' page, or Contact us for details.
© Deb Hunkin

Contact

phone
01726 871074
mobile
07855755121


MEVAGISSEY HARBOUR POSTCODE ;
PL26 6UJ